Papamikey

wrote on October 31, 2005, 10:05 am

Rated
For THE GIRL, sigh....Dora the Explorer AGAIN.

I TRY to steer her away, but she bee-lines straight for the Dora videos EVERY time.

This time its "Big Sister Dora".

Hic. Kill me. Hic. Kill me.

No, wait...rather...KILL BOOTS! What do we do when we need something to kill Boots with?

That's right! BACKPACK!

Backpack backpack...backpack backpack...YAYYY!

Do you see something we can use to kill Boots with? (pause.......BOOP!) That's right! The Rocket Launcher!

Numnumnumnumnumnum....deliscioso!

Papa Mikey!

Here: take your OWN shot at Boots...
kimberly

wrote on October 31, 2005, 10:39 am

Comment
Dora is not cool in our house anymore. its for babies and when my daughter wears dora clothes to school, the other kids make fun of her. so papa mikey a bag of dora clothes will be yours soon.

In our house we rewatch Spy kids & lava girl & shark boy.
Papamikey

wrote on October 31, 2005, 11:55 am

Comment
Actually, THE BOY watched "Garfield" over the weekend and I've never heard him giggle SOOO much!

I think it MAY be time to start adding "real" movies to his daily intake of cartoons: Batman, Spiderman, TMNT, George Shrinks...
Make him watch 'Deliverance'! THAT'LL straighten the boy out! SQUEEEEEAL like a pig!
billdozer

wrote on November 1, 2005, 7:55 pm

Comment
What the.... are you kidding me??
Yeah, Mitch, way outta line! You're dragging down the whole PLONT!
Papamikey

wrote on November 2, 2005, 9:16 am

Comment
Yeah, Mitch you AWFUL AWFUL man!

"Think of the CHILDREN! THE CHILDREN!"
kimberly

wrote on November 2, 2005, 10:28 am

Comment
and to think it started of as a review of Dora
Bringing down the Plont?!? As if!
Geeez, can it get any lower???
BabyX

wrote on March 25, 2007, 7:50 am

Rated
Goo Goo Ga Ga!
Y'know Mikey, repeated viewings aside, this is a good, smart show for toddlers. I will give it top marks, then stab my eardrums with a pencil.
"We did it! We did it! Hooray!"
Thank God I'm getting a Boy and missing all this Dora stuff!

Question to current dads: what will I have to endure?
Dora has a brother named Diego....you're screwed.
Ah crap!

Wait.... maybe I can become one of those nutball parents who prevents their children from seeing tv.... yeah, that's the ticket!
Papamikey

wrote on March 25, 2007, 11:52 pm

Comment
Lessee...current toddler shows for BOYS?

Mitch is right, Dora's cousin Diego is hip and new, but he's more for the 4-5 year old scene (he's a bit "Older" than Dora)...

There's always Thomas, the Tank Engine (narrated by George Carlin of all people)...

Or Blue's Clues (or the new Puppet driven TALKING Blue)...

There's the Wiggles...but they're on the way out.

Bob The Builder is still kicking around.

There's Barney, if you want your child to grow up thinking there's no evil in the world...and get strung up in the school yard.

Then there's always this guy: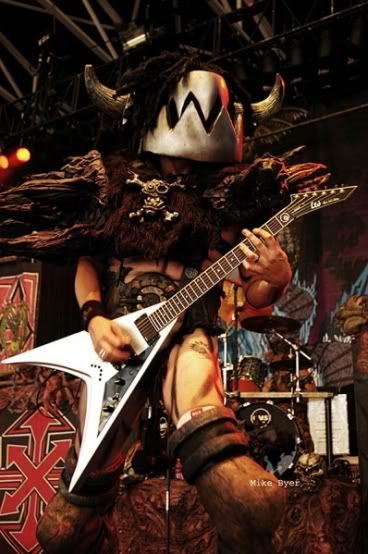 Do they still have those commie gay bozos, the tele-lardasses?
Deril

wrote on March 26, 2007, 11:41 am

Comment
Actually, Dora's popular with the boys too, she has a monkey side kick (always a plus). I find it the most watchable out of all the crap Mikey listed above. Sesame street & Elmo's World are also favorites around the Cordes house...the kids like it too.
AHHHH!! MAKE IT STOP!!!
MAKE IT STOP!!! FOR THE LOVE OF....
I play the maracas!
Deril

wrote on December 27, 2007, 7:09 pm

Rated
POL !!!!!!!!!!!!!!!!!